Pride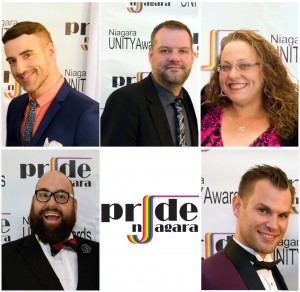 WHO WE ARE
Pride Niagara is a celebration of Niagara's sexual and gender diverse community and its supporters. We provide social activities and information for the LGBT+ Niagara Region.
OUR BOARD OF DIRECTORS
Chair: Enzo DeDivitiis
Vice Chair: Kevin Manninen
Treasurer: Karen Hoffmann
Secretary: Douglas Borg
Member at Large: Darryl Dyball
Ontario Incorporation #1868209
Mr. & Miss Pride Niagara
Mr. Pride Niagara 19/20 Chase Hart & Miss Pride Niagara 19/20 Hellen Heelz
Mr. and Miss Pride Niagara serve as the faces of Pride Niagara promoting Pride Niagara events and positive awareness. Think you have some talent, something to show off? Feel like busting out and showing everyone your PRIDE! You can be The Official Mr. /Miss Pride Niagara! Contestants can be ANYONE who is Proud and not afraid to show it!
Previous Tile Holders:
18/19 Mr. Pride Niagara Michael Dore and 18/19 Miss Pride Niagara Dustiny Love
17/18 Miss Pride Niagara Cara Scene
16/17 Mr. Pride Niagara Kamin Cider and 16/17 Miss. Pride Niagara Macy Manolo
2015 Mr. Pride Niagara Brandon Vrysen & Miss Pride Shannon Unrau
2014 Mr. Pride Adam Coleman and Miss Pride Diamond Hyman
2013 Mr. Pride Oliver Closeoff and Miss Pride Liberty Stands
2012 Mr. Pride Matthew Wyatt and Miss Pride Katana
2011 Mr. Pride Charles Morris and Miss Pride Nikita
2010 Mr. Pride Anthony Scozzafava and Miss Pride Dusty Balfour