Current Events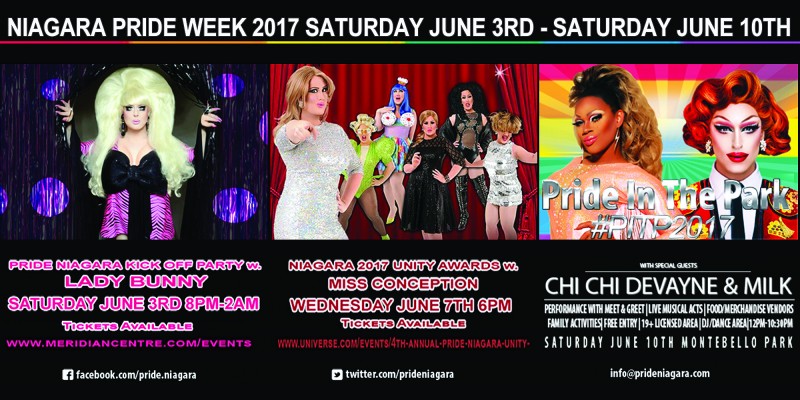 Niagara's Pride Kick Off Party with Celebrity personality and DJ Lady Bunny!
Best Butt/Chest Contest | Free Swag   |Performance with Meet & Greet.With guest performers from across Ontario and of course your host
Empress Claudia Silva. A night filled with music, dancing and celebrating PRIDE! Saturday June 3rd 8pm-2am | 19+| Tickets ONLY $10 Tickets available @ Meridian Center Box Office or via
www.ticketmaster.ca/event/10005278E57E302E (additional Ticketmaster fees apply online)
A fantastic opportunity for our Mayor and Saint Catharines, Ontario City Council to show their support and unity with Niagara's LGBT and supporting communities! Join us at St. Catharines City Hall located in the heart of Downtown St. Catharines. Listen and share with guest speakers and watch as we raise the rainbow flag, celebrating our unity and pride. FREE EVENT.
Niagara 2017 UNITY Awards:Wed.June.7th​ Niagara 2017 UNITY Awards showcases the important successes of individuals and groups that have made an impact for the Lesbian Gay Bisexual Transgender (LGBT) community here in the Niagara Region. Featuring an open wine reception by Hernder Estate Wines, silent auction, a formal three course dinner, the return of the amazing FEMALE DELUSIONIST "EXTRA-ORDINAIRE" Miss Conception and of course the Niagara UNITY Awards ceremony itself.
To determine this year's UNITY award winners, Pride Niagara is once again calling on the community to cast their votes! Voting is now open (Monday May 1, 2017) and will run until 6pm Friday May 19th via online https://www.surveymonkey.com/r/DSCNQH6
GET YOUR TICKETS NOW!
https://www.universe.com/events/4th-annual-pride-niagara-unity-awards-tickets-58G3W2
6th Annual Pride in the Park Festival #pitp2017 Sat.June 10th​ 12pm – 10:30pm at Montebello Park in St. Catharines, #PITP2017 is an outdoor all ages PRIDE festival with LGBT/LGBT friendly entertainment. With Live musical acts, family friendly children activities, food and merchandise vendors, a fully licensed area with DJs and dance floor and more! SHOWCASING from RuPaul's Drag Race Season 8 Chi Chi DeVayne and from RuPaul's Drag Race Season 6 Milk!